Spring 2022 Higher Ed Media Fellows
Fifth Class Of Journalists Named To Higher Education Media Fellowship
March 23, 2022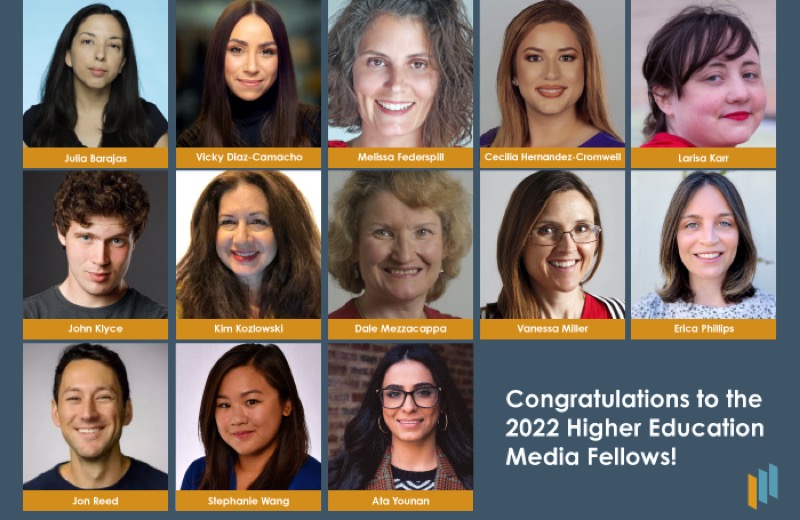 Fellows To Build Tools And Networks For More Comprehensive Coverage Of Postsecondary Career And Technical Education
PRINCETON, NJ (Thursday, March 24, 2022) – The Institute for Citizens & Scholars is pleased to announce its fifth class of journalists named to the Higher Education Media Fellowship, supported by ECMC Foundation. The spring 2022 cohort comprises 13 outstanding journalists representing a variety of outlets, regions, media, and interests.  
The Higher Education Media Fellowship aims to increase the number of journalists equipped with tools and networks to provide more comprehensive coverage of postsecondary education, particularly career and technical education (CTE).  
The spring 2022 cohort includes  Julia Barajas (Southern California Public Radio), Maricel "Vicky" Diaz-Camacho (Kansas City PBS), Melissa Federspill (Uvalde Leader-News),  Cecilia Hernandez-Cromwell (Telemundo Noticiero Oklahoma), Larisa Karr (The Haitian Times), John Klyce (Memphis Business Journal), Kimberly "Kim" Kozlowski (The Detroit News), Dale Mezzacappa (Chalkbeat Philadelphia), Vanessa Miller (The Gazette), Erica Phillips (Connecticut Mirror), Jonathan "Jon" Reed (KUER), Stephanie Wang (Chalkbeat Indiana), and Ata Younan (Freelance). 
The experiences of the Fellows range from hosting podcasts to reporting on the impact of changing drug policies in California and Latin America, working in production in the film industry, and receiving numerous regional and national recognition from the Society of Professional Journalists, the Education Writers Association, and the Colorado Press Association. Fellows have held other reporting fellowships such as a Nieman Fellowship at Harvard University, a Knight-Wallace Fellowship at the University of Michigan, and the DBEI Fellowship from the Investigative Reporters & Editors.   
Each ECMC Foundation Fellow receives an award of $10,000—a $5,000 stipend and $5,000 to support a special CTE reporting project. Fellows will attend an in-person symposium this spring focused on topics related to postsecondary CTE and professional development. Following the symposium, Fellows will complete a CTE reporting project, such as a special report or series.  
"With continuous changes to the economy and labor markets, a critical look at career and technical education has never been more important," said Institute for Citizens & Scholars President Rajiv Vinnakota. "Effective and equitable postsecondary opportunities play a vital role in ensuring students can train for careers and flourish as citizens in our complex society."  
The fifth CTE symposium will be held April 6–8 and will include dedicated activities for professional and network development. To foster a strong and collaborative community, past Fellows are invited to serve as mentors for the current class. The symposium has been designed to provide a deep fellowship opportunity—a robust experience that will support Fellows' personal and professional development; give Fellows the opportunity to develop and deepen relationships with one another; bolster their connections to those working in the CTE field; and provide one-on-one mentoring and additional workshops.  
The funding for this program is a part of ECMC Foundation's CTE Leadership Collaborative, an initiative focused on bringing together diverse perspectives and equipping CTE leaders with the tools, resources, and skills needed to advance postsecondary CTE. The fifth class of Fellows will publish and broadcast their projects throughout the remainder of 2022.   
"As we navigate a rapidly evolving economy, quality reporting on CTE will be crucial to understanding the full picture on preparing workers for the future," said Jennifer Zeisler, Career Readiness Senior Director, ECMC Foundation. "The Institute for Citizens and Scholars continues to find talented Fellows who are well-equipped to report on some of the most pressing stories in postsecondary CTE today. Congratulations to this newest cohort and we look forward to the important work they will produce." 
More information about the ECMCF Fellows of the Higher Ed Media Fellowship, eligibility requirements, and the application process for the next cohort can be found at 
https://citizensandscholars.org/fellowships/hem/  
### 
About the Institute for Citizens and Scholars  
Formerly the Woodrow Wilson National Fellowship Foundation, the Institute for Citizens & Scholars (citizensandscholars.org) is a 75-year-old organization that has played a significant role in shaping American higher education. Now, with an expanded mission, Citizens & Scholars prepares leaders and engages networks of people and organizations to meet urgent education challenges. The overarching goal is to shape an informed, productively engaged, and hopeful citizenry.  
About the ECMC Foundation 
ECMC Foundation (www.ecmcfoundation.org) is a Los Angeles-based, nationally focused foundation whose mission is to inspire and to facilitate improvements that affect educational outcomes—especially among underserved populations—through evidence-based innovation. It is one of several affiliates under the ECMC Group (www.ecmcgroup.org) enterprise based in Minneapolis. ECMC Foundation makes investments in two focus areas: College Success and Career Readiness; and uses a spectrum of funding structures, including strategic grantmaking and program-related investments, to invest in both nonprofit and for-profit ventures. Working with grantees, partners and peers, ECMC Foundation's vision is for all learners to unlock their fullest potential.  
Spring 2022 ECMCF Fellows, the Higher Education Media Fellowship
Julia Barajas

 covers higher education for Southern California Public Radio, which consists of KPCC 89.3 FM and LAist. She is also a former 

Los Angeles Times reporter, and prior to that covered the impact of changing drug policies in California and Latin America for Cannabis Wire.  Julia holds a master's degree in education at Cal State Long Beach and a master's degree in journalism at Columbia University. 

 

Vicky Diaz-Camacho

 is the community reporter, as well as co-host and creator of The Filter podcast, for Flatland at Kansas City PBS. Raised in El Paso, Texas, a border city in the Southwest, Vicky's roots as half-Mexican and Puerto Rican inform much of her reporting, which tends to focus on culture, race and health. Before joining Kansas City PBS, she interned at NPR and worked as a Kansas City Business Journal data journalist. She graduated from the University of Kansas School of Journalism focused on news and editing and is a proud University Daily Kansan alumna. 

 

Melissa Federspill

 is an education reporter for the Uvalde Leader-News. Prior to taking on journalism, she was the owner of an award-winning dog grooming boutique, and while in college, worked to launch an urban fruit tree harvesting program in San Antonio. She holds a master's degree in urban and regional planning from the University of Texas at San Antonio, and a bachelor's degree in business administration from the University of Incarnate Word.

  

 

Cecilia Hernandez-Cromwell

 is the News Director and Anchor at Telemundo Noticiero Oklahoma—the only Spanish news station in the state of Oklahoma. She has been with this Tyler Media-owned company for over six years and has moved up positions until becoming the head of the news department. Cecilia works constantly on new projects while training and mentoring young adults entering the media business. She has covered a variety of topics such as politics, education, tornado disasters, and much more while working for Telemundo Oklahoma.  

 

Larisa Karr

 is a reporter for The Haitian Times, primarily covering politics, elections and education. A graduate of the Craig Newmark Graduate School of Journalism at CUNY, she has interned at CNBC and the Balkan Investigative Reporting Network. Larisa was also a recipient of the 2021 DBEI Fellowship awarded by Investigative Reporters & Editors. 

 

John Klyce

 is a reporter for the Memphis Business Journal (where he started as an intern in September 2019) and covers startups and innovation, education, public companies, and small businesses. He also hosts the publication's "On The Record" series. John graduated from the University of Memphis in 2018 with a degree in journalism and minors in French and creative writing.  

 

Kim Kozlowski

 has been a reporter for five daily newspapers in four states over the past 30 years—covering beats like city hall, Native American issues, religion and social services—and is currently the higher education reporter for The Detroit News.  In 2009, Kim was honored with a sabbatical for journalists by the Knight-Wallace Fellows at University of Michigan and was named as 2020 Journalist of the Year by the Society of Professional Journalists Detroit chapter.

 

 

Dale Mezzacappa

 

is a senior writer with 

Chalkbeat Philadelphia

, covering city schools and trends in urban education. Prior to that, she served as contributing editor of the 

Philadelphia Public School Notebook

, an independent nonprofit news site, which merged with 

Chalkbeat

 in August, 2020. She joined the 

Notebook

 in 2008 after 27 years at the 

Philadelphia

 

Inquirer

, where she was senior education writer. Earlier in her career she reported on government and politics from Trenton and Washington, DC for 

The Inquirer 

and 

The Record

 of Hackensack, N.J. Her writing has earned awards from the Education Writers Association, the Society of Professional Journalists, the New Jersey Press Association, the Keystone Press Association, and the Columbia University School of Journalism. She was a Nieman Fellow at Harvard University an 1990-1991 and for 16 years taught a journalism writing course in the English Department at Swarthmore College. Dale graduated from Vassar and is a past president of the Education Writers Association. 

 

Vanessa Miller

 has been a reporter for 22 years—covering a range of beats including city government, religion, public safety—and is now a higher education reporter for The Gazette in Cedar Rapids. In addition to investigative projects and daily breaking news, Vanessa writes long-form stories for The Gazette's special projects; hosts panel discussions during conferences; produces multi-media content; and appears on radio programs to discuss her reporting. She earned her bachelor's degree in journalism and religion from the University of Iowa and has attended journalism trainings from coast to coast, including annual Education Writers Association conferences. Vanessa is the recipient of several reporting awards, including those from the Colorado Press Association and the Iowa Newspaper Association.  

 

Erica E. Phillips

 covers economic development for the nonprofit Connecticut Mirror. Before joining CT Mirror, Erica was a podcast producer and writer with American Public Media's Marketplace. Prior to that, she spent seven years as a reporter in the Wall Street Journal's Los Angeles bureau, covering the regional economy and the supply chain/logistics business. Erica grew up in Minneapolis, graduated from Haverford College in Pennsylvania with a degree in economics, and received a master's in specialized journalism from the University of Southern California. 

 

Jon Reed

 covers education for NPR member station KUER in Salt Lake City, UT. He came to Salt Lake by way of Los Angeles, where he was a freelance reporter and production assistant for KCRW. Jon received a master's degree in journalism from the University of Southern California, and prior to reporting spent six years in the film industry as an editor and postproduction coordinator. 

 

Stephanie Wang

 is the bureau chief for Chalkbeat Indiana. She previously covered education and diversity issues for the Indianapolis Star, and has also worked for the Tampa Bay Times. Stephanie graduated from Northwestern University and is originally from Boston. 

 

Ata Younan

 is a multimedia storyteller covering culture and equity in Chicago. As a first-generation American Assyrian born in Iraq, she is interested in exploring the nuance at the intersection of origin, culture and identity. She is a 2021 City Bureau Reporting Fellow and a contributing reporter at Borderless Magazine. 

 
Applications for the fall 2022 class of Fellows will open this summer.
Click here to get an email alert when applications open.
Recent Fellowship projects from Fellows:
Stay Engaged
Get More News
Join our mailing list to get more news like this to your mailbox.
Support Our Work
Help us invest in the talent, ideas, and networks that will develop young people as effective, lifelong citizens.
Ways to Support Us