Summer of Impact: Young People Drive Civic Change Over Summer Break
August 31, 2022
"What did you do during summer break?" For youth leaders in communities across the country, the answer would be "changed my community for good." 
From influencing bipartisan bills to hosting rallies to advocating for veterans, Gen Z is creating fundamental civic change to strengthen our democracy for the long haul. 
This drive for civic change is a defining characteristic of Gen Z. According to a poll conducted by the Center for Information & Research on Civic Learning and Engagement (CIRLCE) at Tufts University, 83% percent of youth ages 18-29 say they believe in their power to create positive change the country, and 84% of those surveyed also responded that civic work must go beyond voting in elections.  
As investors in next generation talent since 1945, Citizens & Scholars has recognized a shift in how young people engage as change-agents in their communities. The most diverse generation in American history, Gen Z is growing up with a greater awareness of differences than other generations. They are on the frontlines of the urgent issues affecting us all, from addressing climate change to reducing community violence. The civic change Gen Z seeks in their communities requires a different kind of commitment, a higher set of knowledge and skills, and a deeper sense of self-empowerment and engagement.  
Here are seven stories of young leaders tapping their civic skills and knowledge to drive systemic change in their communities. 
Minneapolis-Saint Paul Teens Influence Policy Change
Walter Cortina and Cole Stevens created MN Bridgemakers during their campaign to change Minnesota's laws on unemployment benefits. With the support of a C&S Civic Spring Fellowship, Bridgemakers successfully sued the state so that high school students—many of whom financially support their families—could receive benefits during COVID-19 shutdowns.  
MN Bridgemakers garnered support for a bipartisan bill that repealed the law, resulting in 20,000 youth gaining access to over $33 million in benefits. 
This summer, Walter and Cole hosted a leadership summit to share their knowledge and help other young people build their skills to effect change in their own communities. Bridgemakers covered expenses for 30 youth leaders to attend the event.
Philadelphia Youth Advocate for Change Through Education and Voting
Philadelphia public high schoolers are getting paid this summer to sharpen their community organizing and leadership skills through Community Rising, C&S Civic Spring Fellows '22. These teens—primarily from low-income communities of color—are connecting communities with mental health resources to combat the effects of gun violence and voting resources to make their voices heard in upcoming elections.  
This summer students from Community Rising organized and hosted a rally on gun violence at the State Capitol. The students gave impassioned speeches about their personal experiences with gun violence. The students also spoke at Youth Town Hall and participated in PHIL Youth Week, where they met with the mayor to discuss gun violence prevention. 
Philadelphia Youth Voices on Gun Violence
Philadelphia students from Community Rising, a 2022 Civic Spring Fellow, gave impassioned speeches about their personal experiences with gun violence at a rally at the State Capitol this summer.
Arizona Teen Educates Voters Ahead of Midterm Elections
Farhan Babur had been brainstorming how to motivate his high school peers to vote in the upcoming election. Thanks to funding from the C&S Civic Spring: Arizona Fellowship, Farhan has been able to bring a project to life. 
This summer, Farhan held events to provide voter registration assistance, election details, and nonpartisan candidate information for local and national Arizona races. He hosted a town hall in August with nearly 40 attendees from the community. His goal is to host 10 by election day. 
He's also connected with other young and adult leaders in the community to help strengthen his messaging, outreach, and execution for these events.  
"With projects like these—especially related to voting, but with most projects inducing social change—there's a large subset of the population that just doesn't care," says Farhan. "You can quickly mobilize the people who do care, but it's hard to get those people—those are the ones you need to reach the most."
Missouri Twins Launch Food Pantry, Model for Use in More Communities
Missouri twins and rising seniors Alizeh and Sania Hammad, 17, launched Sate Crate to fight food insecurity in their community, but have created a model that can replicated across the country. 
"We've seen a lot of poverty in our lives," Sania Hammad said to the Joplin Globe. "With the recent influx of Afghani refugees, we thought we should do our part in helping end hunger. We are aware that one box in Joplin isn't going to end hunger, but we feel like as humans, it's our responsibility to do our part because we can and we should. We have the ability to do this, so we should help people who don't have the ability to do it." 
Based on the popular Little Free Libraries, Sate Crate is a scalable model that the sisters hope will be adopted by other students or residents and serve as inspiration for other communities.  
The teens also built a website about the project, complete with research and information about food insecurity, and plan to hold monthly food drives to keep the pantry stocked. There is another State Crate planned for Noel, Missouri, later this year. 
New York Teen's Viral "I Voted Sticker" Could Increase Engagement
We've all seen them: "I Voted" stickers on the shirts and feeds of people of all ages every election day. For voters in Ulster County, New York, those stickers are going to look a little different this year. 
Fourteen-year-old Hudson Rowan submitted a drawing to a contest hosted by the Ulster County Board of Elections. Hudson described the sticker to The Washington Post as a "colorful human head on, I guess, spider legs?"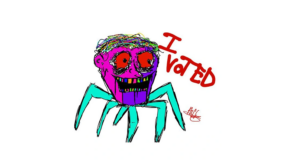 The sticker design went viral.
When the votes for the winning design were tallied at the end of July, Hudson's artwork brought in almost 230,000 votes. Ulster County has a population of about 180,000. Since launching the contest and the sticker's internet fanfare, the election commissioners from Ulster County have received numerous emails from people wanting stickers and other commissioners wanting tips for how to engage young folks in the voting process. 
And while Hudson didn't create the drawing with the intention of increasing voter turnout, he's pleased with how the design has been received. "I'm super glad I'm inspiring people to…take the time to vote to get my sticker," he told The Post.  
West Virginia High Schoolers Promote Small Business Economic Development
A group of southern West Virginia youth spent their summer spinning up the project Trend Small, funded by a C&S Civic Spring Fellowship. The young innovators partnered with small businesses that need help promoting their goods and services through digital and social media.  
"In addition to highlighting business services, we want to start conversations that says 'we do have businesses who are trying to survive and thrive here; we have things that can attract people from out of state and there are job markets here beyond the traditional industry kind of mindset,'" says program advisor, Liz Brunello. 
Trend Small is targeting tourist groups and college and university students as consumers of the content and possible patrons of the small businesses. Long-term, the young people want to create an interactive map that can eventually function as an app for people to use so that consumer spending stays in the community.  
"We are seeking to amplify the offerings and stories of determination from local businesses across social media and show our communities as well as outsiders that there are things to do here and there are people trying to make things happen," says youth participant Meredith Miller. "The platform we are building will also be educational about the importance of keeping local money in our local economy to promote economic growth."  
More young people driving change in their communities. Meet the 2022 Civic Spring Fellows.
Teen Builds Town's Veteran Memorial
Dominique Claseman, 17, planned and built a veterans memorial for his town of Olivia, Minnesota.
Minnesota Teen Creates Veteran Memorial for His Town
The small town of Olivia, Minnesota, did not have a veteran memorial. That is, until Dominique Claseman, 17, decided to build one as a part of his Eagle Scouts project. 
With three generations of veterans providing inspiration, high school sophomore Dominique presented architectural drawings and a $15,000 budget to the Olivia City Council. After two years of planning, fundraising, community outreach, and building, the memorial was unveiled on Memorial Day.  
"There's one person that came up to me and they said that they are so happy to see this," Claseman told NPR. "They've been living in this town for 10 to 15 years and they were waiting for something like this to even happen." 
The memorial features 280 engraved pavers that lead to flag poles surrounded by benches. There are statues commemorating fallen soldiers from various conflicts. Dominique's favorite part is the series of 21 boot prints leading down the path to the flag poles. The steps, which represent a 21-gun salute, were made by Dominique's father, Mark Jurgensen. Mark wore his combat boots from his time in the service to stamp the wet concrete. 
As summer ends, Gen Z continues to address urgent needs in their communities, across geographies, political ideologies, and with new economic realities. Investing in the civic development of young people will power a more durable, inclusive democracy now and for the future.  
Stay Engaged
Get More News
Join our mailing list to get more news like this to your mailbox.
Support Our Work
Help us invest in the talent, ideas, and networks that will develop young people as effective, lifelong citizens.
Ways to Support Us