Gen Z is eager to help Arizona. All we need are opportunities to lead 
January 10, 2023
Excerpt cross-posted from The Arizona Republic. 
Citizens & Scholars is proud to publish a series of diverse perspectives on citizen engagement and democracy from our network of Fellows and partners. 
If you'd told me a few years ago that someday I'd spend my weekends planning events so strangers could talk politics, I'd have called you crazy. But last summer, that's what I did, and it was incredibly fulfilling. 

Last spring, I received a Civic Spring Fellowship from the Institute for Citizens & Scholars to host town halls in my hometown, Scottsdale, so that young people and adults could meet candidates for elected office. Events were held in September at a local mosque, a library and a private home. 

Witnessing conversations among community members and candidates about issues that matter to them reinforced for me why it's so important that my generation be given the space to make positive change happen in our communities. 
I'm not an activist. I just wanted to help
Related: Making Politics Accessible: C&S Fellow Hosts Voter Education Events 
I'm your typical American teenager. I hang out with friends, spend too much time on my smartphone and worry about where I will go (and how I will pay!) for college. I'm not an activist, and I don't have any special family connections. 

I'm also a first-generation American, the child of South Asian parents. In addition to a strong work ethic and the push to pursue my dreams, my parents instilled in me great pride in this country. Our dinnertime discussions included civics and political education, but my family hasn't always felt that they had a say in our government or could access those who make public policies. 

The idea for the town halls came from my experience at a voter education event in my mosque when I was 14, where I met candidates for office from Congress to school board. That event helped me realize that connecting voters and candidates means ideas and views get shared, voices are heard and everyone feels more confident in their own democratic power. 

I decided to bring that experience to others in my community.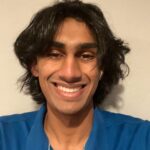 Farhan Babur is a senior at BASIS High School in Scottsdale. He was a Civic Spring Fellow at Citizens & Scholars in summer 2022. 
Stay Engaged
Get More News
Join our mailing list to get more news like this to your mailbox.
Support Our Work
Help us invest in the talent, ideas, and networks that will develop young people as effective, lifelong citizens.
Ways to Support Us