C&S Fellow Wins MacArthur Grant
October 11, 2023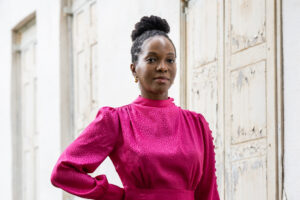 A Fellow from the Citizens & Scholars network has been named a MacArthur Fellow, the five-year program unofficially called "Genius Grants."
Imani Perry, a 1994 Mellon Fellow, was awarded the grant for her work "giving fresh context to history and the cultural expressions forged by Black Americans in the face of injustice."
Imani Perry is a Carol K. Pforzheimer Professor, Harvard Radcliffe Institute, and the Henry A. Morss, Jr., and Elisabeth W. Morss Professor of Studies of Women, Gender, and Sexuality and of African and African American Studies at Harvard University, where she is also the co-founder of the Black Teacher Archive. As an interdisciplinary scholar and writer, Perry draws from law, literature, history, philosophy, and popular culture to explore how Black Americans—and often Black women in particular—have resisted, survived, and nonetheless thrived. Her recent publications include Looking for Lorraine: The Radiant and Radical Life of Lorraine Hansberry (2018), Breathe: A Letter to My Sons (2019), and South to America: A Journey Below the Mason-Dixon to Understand the Soul of a Nation (2022) and she is a contributing writer at The Atlantic.
Explore open Citizens & Scholars Fellowships.
"

[video width="640" height="390" src="https://www.macfound.org/media/fellows/mp4-video-files/maf23_perry_profile.mp4" /]
Imani Perry, Interdisciplinary Scholar and Writer
"Giving fresh context to history and the cultural expressions forged by Black Americans in the face of injustice."
MacArthur Fellows receive $800,000, no strings attached, as seed money for their intellectual and social endeavors. Current Mellon Fellowships funded by the Andrew W. Mellon Foundation and administered by Citizens & Scholars support recent college graduates, graduate students, and junior faculty, focusing on those who received previous Mellon funding.
Stay Engaged
Get More News
Join our mailing list to get more news like this to your mailbox.
Support Our Work
Help us invest in the talent, ideas, and networks that will develop young people as effective, lifelong citizens.
Ways to Support Us