Charlotte W. Newcombe Doctoral Dissertation Fellows Named For 2023
Program Supports Promising Scholars Completing Dissertations Related To Ethics And Religion
May 11, 2023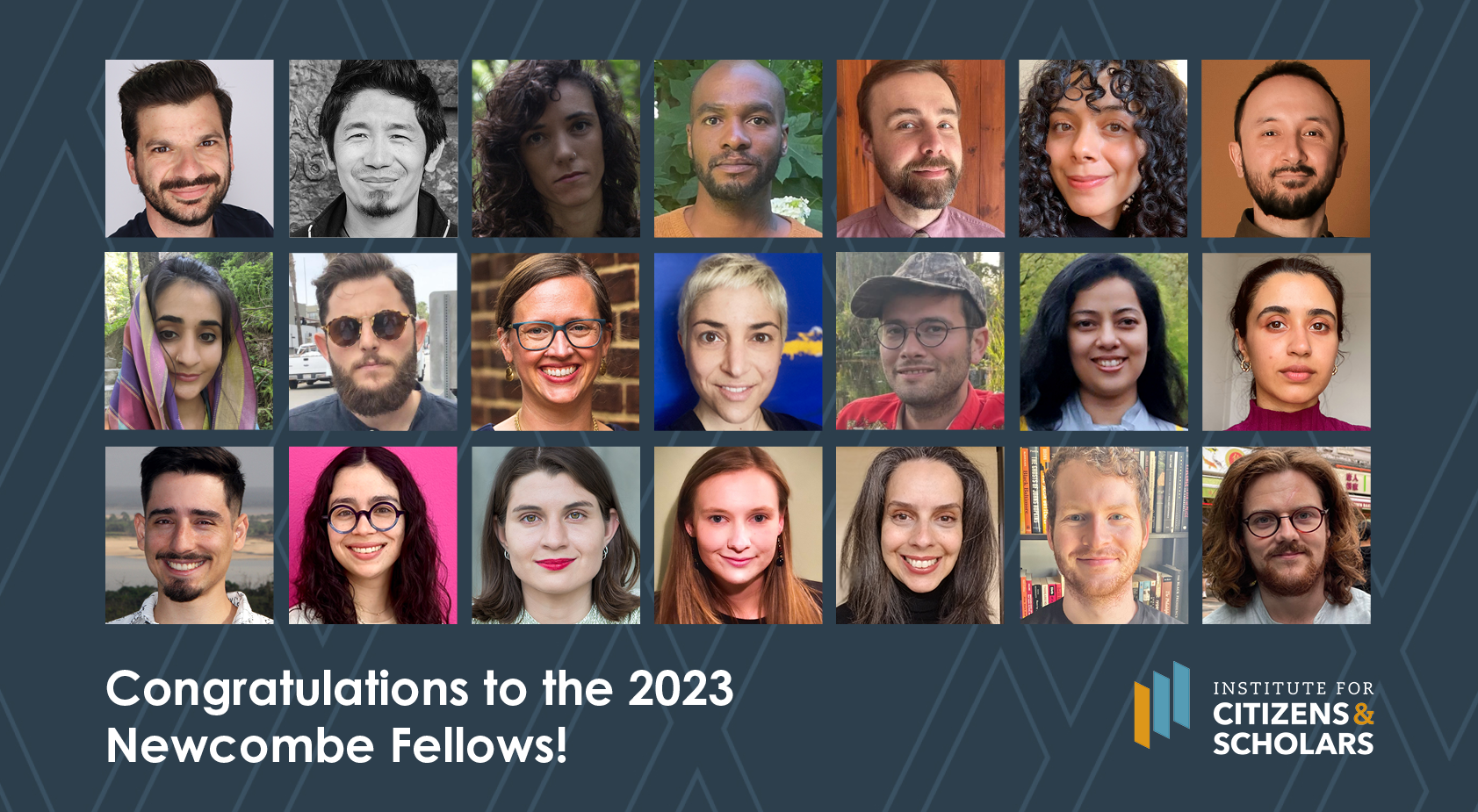 The Institute for Citizens & Scholars has named 21 Fellows to the 2023 class of the Charlotte W. Newcombe Doctoral Dissertation Fellowship.
The Newcombe Fellowship, funded by the Charlotte W. Newcombe Foundation, is the largest and most prestigious award for Ph.D. candidates in the humanities and social sciences addressing questions of ethical and religious values in interesting, original, or significant ways. Fellows receive a 12-month award of $30,000 to support the final year of dissertation writing.
Fellows in this year's class are working in fields such as anthropology, history, political science, and philosophy. They are exploring diverse topics, including refugeehood, political conflict, surveillance, and urbanism. (See the full list of Fellows, institutions, and dissertation titles below.)
Funding at the dissertation stage remains a vital way to support young scholars. Since its creation in 1981, the Fellowship has supported over 1,300 doctoral candidates with essential time and resources to complete their writing. Newcombe Fellows have gone on to be noted faculty at domestic and foreign institutions, leaders in their fields of study, Pulitzer Prize winners, MacArthur Fellows, and more.
The Newcombe Dissertation Fellowship is a cornerstone of the Citizens & Scholars portfolio in higher education, helping promising scholars generate momentum, strengthening fields of study, and preparing new generations of citizens through their teaching and research. For more information on the Newcombe Dissertation Fellowship, please visit citizensandscholars.org/fellowships/newcombe/.
2023 Newcombe Fellows
Isabela Muci Barradas | Princeton University, Art & Archaeology
The Polyphonic Forest: Photographing the Amazon, 1970-1989
Matthew DeMaio | The George Washington University, Anthropology
Made to Move: Placemaking and Accumulated Attachments among Palestinian Refugees from Syria
Tenzin Dorjee | Columbia University, Political Science
Religious Routes to Conflict Mitigation: Buddhism, Nationalism, and Radicalization in the Sino-Tibetan Conflict
Margaux Myriam Fitoussi | Columbia University
Minor Differences: A Study of Jewishness and Jewish-Muslim Relations in Tunisia
Dustin Gavin | Yale University, Religious Studies and African American Studies
If You Buck: The Politics and Poetics of Majorette Dance
Benjamin Hansen | University of Minnesota, Twin Cities,              History
Between Trepidation and Hope:  Palestinian Christians after the Arab Conquests (c. 650-750 CE)
Kelsey Henry | Yale University, American Studies
Racing the Life Course: Anti/Black Epistemes and Ethical Foreclosures in Child Development Science, 1830 – 1980
Nurlan Kabdylkhak | University of North Carolina at Chapel Hill, History
Muslim Institutions and Scholars of the Kazakh Steppe Under the Russian Tsars
Zunaira Komal | University of California, Davis, Anthropology
Translating the Symptom: Military Psychiatry, Islamic Cures, and Divine Calamity in Azad Kashmir
Rami Koujah | Princeton University, Near Eastern Studies
Islamic Legal Personhood: An Intellectual History
Erica Lally | Georgetown University, History
A Grave Menace: The American Protective League, Citizenship, and Surveillance during the First World War
Isabelle Laurenzi | Yale University, Political Science
Critical Ambivalence, Intimacy, and The Politics of Transformation
Sam Law | University of Texas at Austin, Anthropology
Building a Dignified Life: Urban Autonomy and the Art of Living Otherwise
Aparajita Majumdar | Cornell University, History
Planting Recalcitrance: Nature, Knowledge, and Heritage in a South Asian Borderland
Gaurika Mehta | Columbia University, Religion
Bearing the Burden of History: Religion and the Minority Ethics of the Indo-Caribbean Madrasi Diaspora
Pedro Monque | The Graduate Center, City University of New York, Philosophy
Extractivism and the Defense of Life and Territory: An Account of Latin American Environmental Thought
Ariana Peruzzi Sancio | University of Michigan, Philosophy
Theorizing Displacement:  On Involuntary Migration, Refugeehood, and the Right to Remain
Avenel Rolfsen | Indiana University-Bloomington, History
We Won't Wait for the State: Humanitarianism, Solidarity, and Charity in Senegalese History, 1880-1970
Daniela Moraes Traldi | The Graduate Center, City University of New York, History
God, Fatherland, Family: Integralismo and the Making of the Far-Right in Twentieth-Century Brazil
William Wical | University of Maryland, College Park, Anthropology
The Embodied Emotional Experiences of Black Men Participating in a Hospital-Based Violence Intervention Program
Sean Wyer | University of California, Berkeley, Italian Studies
Constructing Convivenza: Multicultural Heritage and Cosmopolitan Rhetoric in Contemporary Palermo
Stay Engaged
Get More News
Join our mailing list to get more news like this to your mailbox.
Support Our Work
Help us invest in the talent, ideas, and networks that will develop young people as effective, lifelong citizens.
Ways to Support Us