2022 Career Enhancement Fellows
Outstanding Scholars Named as 2022 Career Enhancement Fellows
May 18, 2022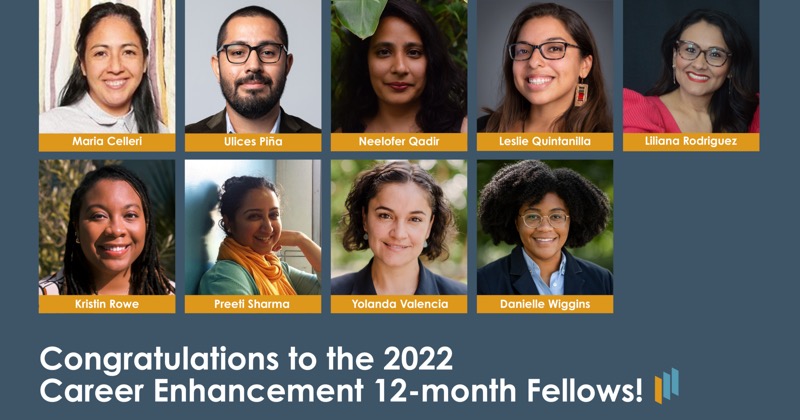 Awards Support Career Development Opportunities for Junior Faculty in the Humanities, Social Sciences, and Arts 
PRINCETON, NJ (May 18 2022) – The Institute for Citizens & Scholars has named 28 new Career Enhancement Fellows for the 2022-23 academic year.
The Career Enhancement Fellowship, funded by the Mellon Foundation and administered by Citizens & Scholars, seeks to increase the presence of underrepresented junior and other faculty members in the humanities, social sciences, and arts by creating career development opportunities for selected Fellows with promising research projects.
The 2022 Career Enhancement Fellows work in such disciplines as ethnic studies, English, Chicana and Chicano studies, history, sociology, and more. They come from a variety of institutions across the country. Selected from a highly competitive pool of applicants, Fellows are expanding perspectives within their disciplines and are committed to research and service that increases diversity and inclusion on campus. (Full list of Fellows, institutions, and departments below.)
Applications are now open for Career Enhancement Fellowships
The program provides Fellows with a six-month or one-year sabbatical stipend (up to $35,000); a research, travel, or publication stipend (up to $1,500); mentoring; and participation in a professional development retreat. For 2022, nine junior faculty members will receive 12-month Fellowships and 19 will receive six-month Fellowships.
Administered at Citizens & Scholars since 2001, the Career Enhancement Fellowship has supported more than 400 junior faculty members, creating a robust network of scholars committed to eradicating racial disparities in core fields in the arts and humanities. Fellows have gone on to serve in administrative and leadership roles, receive high honors like MacArthur Fellowships, and teach new generations of students.
For more information about the Career Enhancement Fellowship, eligibility requirements, and the next application cycle, visit https://citizensandscholars.org/fellowships/career-enhancement/
Sign up for notifications when funding opportunities open.
About the Institute for Citizens and Scholars    
Formerly the Woodrow Wilson National Fellowship Foundation, the Institute for Citizens & Scholars (citizensandscholars.org) is a 75-year-old organization that has played a significant role in shaping American higher education. Now, with an expanded mission, Citizens & Scholars prepares leaders and engages networks of people and organizations to meet urgent education challenges. The overarching goal is to shape an informed, productively engaged, and hopeful citizenry.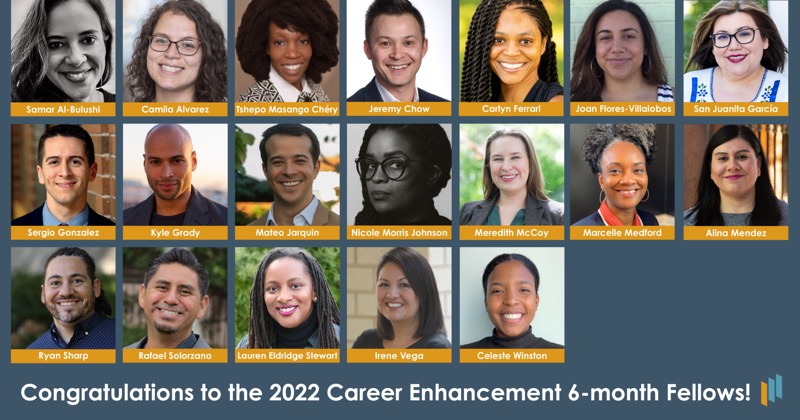 12-Month Fellows
Maria Celleri |University of Maryland, Baltimore County, gender, women's and sexuality studies
Ulices Pina |California State University, Long Beach, history
Neelofer Qadir | University of North Carolina-Greensboro, English, international & global studies
Leslie Quintanilla | San Francisco State University, women & gender studies
Liliana Rodriguez | Texas A&M University-Kingsville, psychology and sociology
Kristin Rowe | California State University Fullerton, American studies
Preeti Sharma | California State University, Long Beach, American studies
Yolanda Valencia | University of Maryland Baltimore County (UMBC), geography and environmental systems
Danielle Wiggins | California Institute of Technology, humanities and social sciences
Six-Month Fellows
Samar Al-Bulushi | University of California, Irvine, anthropology
Camila Alvarez | University of California, Merced, sociology
Tshepo Masango Chéry | University of Houston, history
Jeremy Chow | Bucknell University, English
Lauren Eldridge Stewart | Washington University in St. Louis, music
Carlyn Ferrari | Seattle University, English
Joan Flores-Villalobos | University of Southern California, history
San Juanita García | University of California, Santa Barbara, Chicana and Chicano studies
Sergio Gonzalez | Marquette University, history
Kyle Grady | University of California, Irvine, English
Mateo Jarquin | Chapman University, history
Meredith McCoy | Carleton College, American Studies, history
Marcelle Medford | Bates College, sociology
Alina Mendez | University of Washington Seattle, American ethnic studies
Nicole Morris Johnson | University at Buffalo, English
Ryan Sharp | Baylor University, English
Rafael Solorzano | California State University, Los Angeles, Chicana(o) and Latina(o) studies
Irene Vega | University of California Irvine, sociology
Celeste Winston | Temple University, geography and urban studies
Stay Engaged
Get More News
Join our mailing list to get more news like this to your mailbox.
Support Our Work
Help us invest in the talent, ideas, and networks that will develop young people as effective, lifelong citizens.
Ways to Support Us