Vote Because The World Might Just Depend On It
October 14, 2022
Excerpt cross posted from The Columbia Daily Tribune. 
Citizens & Scholars is proud to publish a series of diverse perspectives on citizen engagement and democracy from our network of Fellows and partners. 
Since I was young, the civic duty of voting has been entrenched in my conviction to make positive change. 

I remember being taught ideals of popular sovereignty, being shown examples of how groups of people exercising their vote have changed the world, and how my mom wouldn't dream of missing an election for fear of giving up her power. 

As a product of the hyper-connectivity of my generation and via unrelenting waves of media, I've become aware of the multitude of issues that plague our world. Watching these issues compound, paired with a lack of federal action, makes me question what I can do to solve them. But this year, now that I'm 18, I've been given one of the most powerful tools of change — a vote. 

… 

Now is the time to make sure you are registered to vote and have a plan for casting your vote. The campaign season is the perfect time to learn about candidates' positions on the issues that are most important to you. Attending candidate forums and browsing candidates' websites are all integral parts of the civic duty that is voting. 

But I encourage you to go above and beyond and explore the issue of climate change and how it may impact you and your community through economic, physical and social lenses. Then evaluate candidates on their support for policies that protect our world. 

With this coming general election, we all must remember the importance of our ballot and the potential for change that we hold. This election season is one of few moments in which voters hold the power to directly dictate what issues are most pressing to them. 

What you decide to do with that power is up to you, but choose carefully — the world might depend on it. 
Read the full editorial here.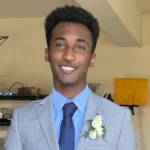 Chris Mesfin is a 2022 graduate of Rock Bridge High School and current freshman pursuing a degree in environmental science and public policy at Harvard University. 
Stay Engaged
Get More News
Join our mailing list to get more news like this to your mailbox.
Support Our Work
Help us invest in the talent, ideas, and networks that will develop young people as effective, lifelong citizens.
Ways to Support Us