Rajiv Vinnakota & President Holloway: Rutgers University Seminar
September 21, 2023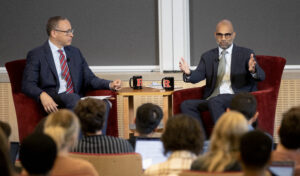 "Those 42 million of you who are entering the public square in the next decade, you're going to determine what direction we go, and we have a tremendous opportunity to make sure that we go in the right way," said Citizens & Scholars President Rajiv Vinnakota in conversation with Rutgers University President Jonathan Holloway. Vinnakota was a guest speaker for Holloway's fall 2023 Byrne Seminar for first-year students, "Citizenship, Institutions, and the Public."
Sharing his perspective on the importance of civic preparedness, promoting free expression on college campuses, and viewing higher education as a public good, Vinnakota encouraged students to engage across differences and put into practice the skills and disposition of a good citizen.
Watch the video below.
Learn more about Campus Call for Free Expression.  
Stay Engaged
Get More News
Join our mailing list to get more news like this to your mailbox.
Support Our Work
Help us invest in the talent, ideas, and networks that will develop young people as effective, lifelong citizens.
Ways to Support Us