Propelling Society Forward: Q&A with Rajiv Vinnakota
A Q&A with Rajiv Vinnakota, seventh President of the Woodrow Wilson National Fellowship Foundation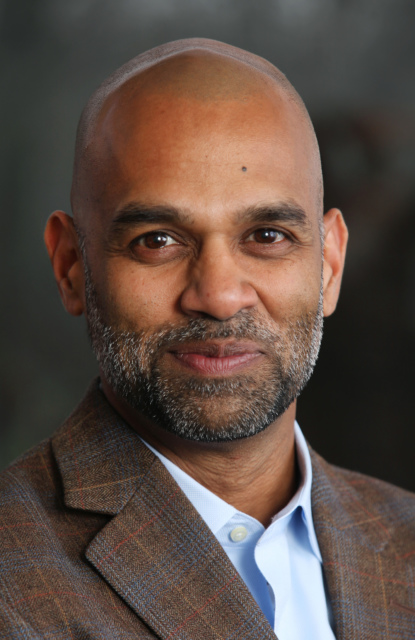 Since joining the Woodrow Wilson Foundation team on July 1, 2019, Raj Vinnakota has been getting to know WW's people and programs. Here, Raj answers a few questions about his perspective on the Foundation thus far.
Why WW? What brought you here?
I first heard about the Foundation the same way many people have in the past decade—through Arthur Levine's work. But then I learned more about the amazing arc of its work: the initial Woodrow Wilson Fellowships and their impact on the academy, on knowledge, on the world—and then the Foundation changing with the times, supporting women and people of color in higher education, then expanding to include STEM and K–12 teaching. Time after time, WW has really looked at key issues in education and how to tackle them. It's a tremendous legacy that WW has built over the last 75 years.
What do you think is the power of that legacy, 75 years on?
I think it just gets more inspiring. With another Fellow winning a Nobel Prize this year, with three Fellows getting MacArthur Fellowships this year, with the impact that the Foundation has had on whole fields, like women's and gender studies—that's a legacy that doesn't feel past, it feels very present. WW really is the past and future all brought together. I want to add to that.
What has your interaction been with Fellows so far, and how is that influencing your outlook?
I've spoken with just a handful of Fellows so far—some of the more recent Teaching Fellows and a few from years past. What always surprises me is the Fellowship's place in their hearts. They remember exactly when and where they heard about it, their emotional reaction to getting it—it made a real difference for them. I'm really looking forward to meeting as many Fellows as possible.
Is there anything you can say at this point about the next directions for the Foundation?
Two things. One is that the work we currently do is very strong. We attract strong candidates for Fellowships and we have strong people working on the programs. I think we can have an even greater footprint. For instance, I think very few people are aware of the significant impact that our Women's Studies Fellowship has had over the last four-plus decades. That's actually true for every single program that the staff and I strategically analyzed over my first three months here.
The other is how to expand our strategic aperture. Our public institutions need to play a key role in developing great citizens. We've lost sight of that responsibility over the last few decades. K-12 has focused closely on reading and math scores, and then on workforce issues and STEM. As fundamental as those issues are, there's another, equally fundamental role for education and the social institutions that surround it: preparing knowledgeable, productively engaged, hopeful people in our democracy.
You've said your family is very important to you—not just personally, but professionally. Can you say more about that?
My father is a civil engineering professor from India who got his Ph.D. in Switzerland, then taught at Cornell and Marquette Universities. I learned a lot about the academy from him. And my wife is an historian of eastern Europe who has taught at Georgetown. On the other hand, I have a daughter in eighth grade, and I'm experiencing K–12 as a consumer and learning what we do well and what we need to improve. So I am involved in education as a father, a son, and a husband, as well as in my own professional life.
And what else do we need to know about you?
I'm an optimist. I believe that our educational system can do and has done amazing things to propel our society forward. WW has a significant role in making sure that happens as effectively as possible for as many people as possible. I like being part of an organization that wants to take on these really major challenges. That's part of what I value about the Foundation—the people who work there believe in it, Fellows believe in it, donors believe in it. It's wonderful to be part of this group of people who are all focused on that purpose.
I'm also an entrepreneur—from the SEED Schools, the network of boarding schools I co-founded, to a youth engagement division of the Aspen Institute, to here. I want us to be willing to take risks and try new things to impact society. And I'm comfortable that I'm surrounded by people of a similar ilk.
Stay Engaged
Get More News
Join our mailing list to get more news like this to your mailbox.
Support Our Work
Help us invest in the talent, ideas, and networks that will develop young people as effective, lifelong citizens.
Ways to Support Us