C&S Fellow Dr. Salamishah Tillet Wins Pulitzer Prize
May 16, 2022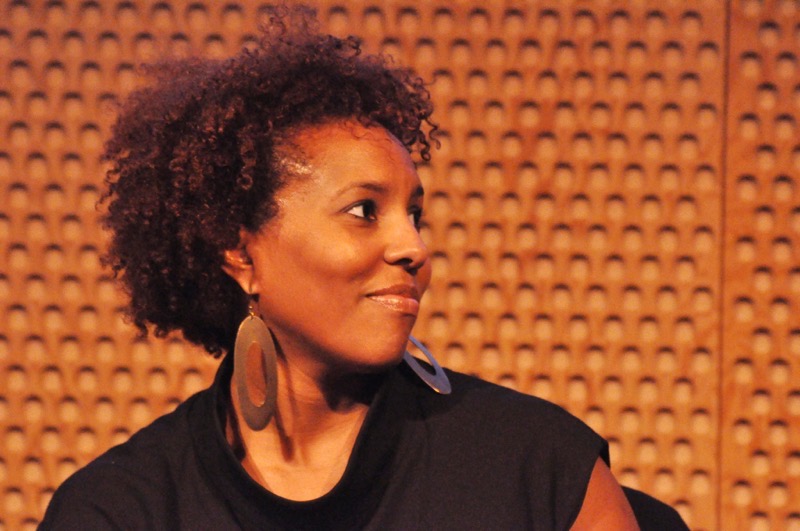 Salamishah Tillet has won the 2022 Pulitzer Prize in Criticism for her "learned and stylish writing about Black stories in art and popular culture–work that successfully bridges academic and nonacademic critical discourse." The award recognizes her work as a contributing critic at large at The New York Times. Dr. Tillet is a double C&S Fellow, holding a 1999 Mellon Fellowship in Humanistic Studies and a 2010 Career Enhancement Fellowship.
Dr. Tillet spoke with Citizens & Scholars about her work for the spring 2018 issue of Fellowship, the newsletter of the then Woodrow Wilson Foundation. Read the full story excerpted below.
SALAMISHAH TILLET'S MULTIFACETED WORK AND ACTIVISM
The late Clement Price, Board of Governors Distinguished Service Professor of History at Rutgers-Newark and a scholar in residence at the Woodrow Wilson Foundation in 2001–2002, was an extraordinary force in Newark, New Jersey's cultural and artistic revitalization. It was a fitting tribute when, in 2014, Rutgers-Newark renamed the institute he founded there as a way of honoring his memory.
Soon, the Clement A. Price Institute on Ethnicity, Culture and the Modern Experience will have one of the Woodrow Wilson Foundation's Fellows as its new associate director: Salamishah Tillet MN '99, CEF '10, the Robert S. Blank Presidential Associate Professor of English and Africana Studies at the University of Pennsylvania. Dr. Tillet will also be the Henry Rutgers Term Chair Professor of African-American Studies and Creative Writing and become the founding director of the Public Arts and Social Justice Initiative at Express Newark, a collaboratory that houses a number of university-community arts initiatives.
Dr. Tillet is no stranger to the intersection of the arts, education, social justice, and community service. In the late 1990s, Dr. Tillet and her sister Scheherazade created and then toured their multimedia performance piece, Story of a Rape Survivor (SOARS), an intimate portrait of Dr. Tillet's own personal journey. In 2003 the pair founded the nonprofit A Long Walk Home, which uses art to empower young people and end violence against girls and women.
"The arts can give you a sense both of how the world is and how the world was," Dr. Tillet told Fellowship in 2011. "Even though it's not history, per se, a lot of the work that I do deals with the past, and the arts can give us a sense of the past. Through the arts, we can time-travel to places and people and worlds that we weren't a part of. As an academic and as a teacher, I think the arts give us a way of imagining beyond what our minds can do. They give us a sense of the future, but also an alternative world in the present."
Dr. Tillet's first book, Sites of Slavery: Citizenship and Racial Democracy in the Post-Civil Rights Imagination (2012), also uses the arts as a historical lens for memory and social justice. The book, according to the publisher, "examines how contemporary African American artists and intellectuals…turn to the subject of slavery in order to understand and challenge the ongoing exclusion of African Americans from the founding narratives of the United States."
As a cultural critic, Dr. Tillet is a frequent contributor to Arts and Leisure at The New York Times, writing recent pieces on the impact the ABC show Scandal had on the portrayal of Black female characters on TV and a critical look at three new documentaries chronicling the work of Dr. Martin Luther King, Jr. She has also written blogs and editorials for publications like The Atlantic, The Chicago Tribune, The Guardian, The Nation, The Root, and Time.
At UPenn, Tillet teaches a class on Beyoncé, using the artist and her work as a way to examine culture at large and how Black women fit into it. She is currently at work on two books: one called In Search of the Color Purple, a memoir about Alice Walker's novel, and another about iconic musician and civil rights icon Nina Simone.
Art, to Dr. Tillet, is a way to explore the past and the present, a tool for creating change, and a mode of expression and healing. She infuses it into all her work as a scholar, teacher, activist, social critic—and now into her new role at Rutgers-Newark.
"As a resident of the city of Newark, and as a student and a scholar of the Black Arts movement, I think that we're in a compelling and exciting time here in the city and at Rutgers-Newark in particular, to do really innovative, creative and progressive work," Dr. Tillet said of her new appointment. "I'm honored and humbled to be part of the process and the journey."
(Photo by Joe Mabel)
Stay Engaged
Get More News
Join our mailing list to get more news like this to your mailbox.
Support Our Work
Help us invest in the talent, ideas, and networks that will develop young people as effective, lifelong citizens.
Ways to Support Us