Brewer Fellows Work Across The Aisle
December 10, 2021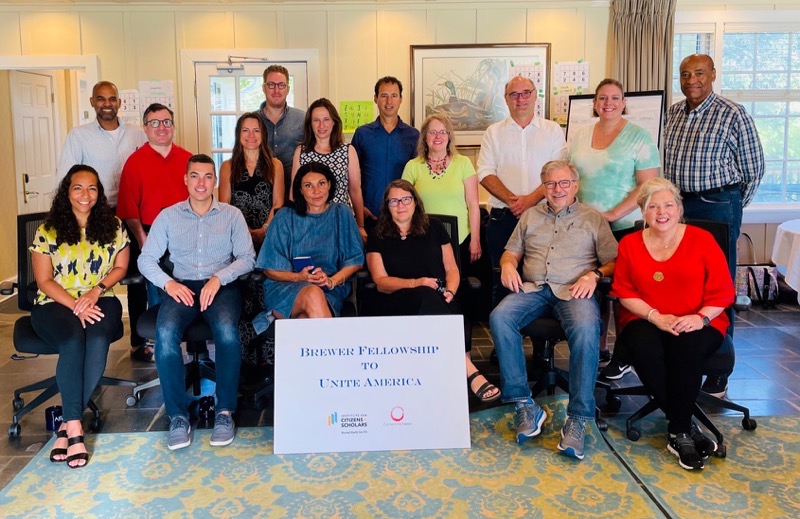 Policy entrepreneurs working to reform voting and heal our nation's divisions span the political spectrum. The Brewer Fellowship to Unite America, launched in 2020 by Cultivate the Karass, Unite America, and Citizens & Scholars, aims to develop these leaders' skills and organizational capacity as well as prompt participants to listen and collaborate across the partisan divide to strengthen democracy.
Most Fellows are senior leaders from small, policy-reform nonprofits focused on electing pro-reform candidates, bringing about structural change in our system of government to boost competition and accountability, and/or building reform movement infrastructure. Many founded their organizations because they saw a gap in the field, and areas ripe for reform.
The Fellows met virtually four times in 2020 and convened in person in August 2021 for a three-day retreat. Their group work is designed to deepen relationships and encourage them to be resources for one another as they collaborate around democracy reform.
Between meetings, Fellows receive individual coaching and leadership development from Lori Brewer Collins, a renowned executive coach and facilitator. This work includes personal reflection and helps them develop self-awareness, as well as mental models, strategies, and creativity for leading teams in these uncertain, complicated and sometimes volatile times.
"Fellows don't all have the same reform focus, experience or needs, but we're united by a commitment to strengthening American democracy," says Rob Richie, president & CEO of Fair Vote. "Convening in person made those bonds all the more tangible, enhanced by the combination of tools and conversations introduced by the facilitators that left me refreshed, reflective, and ready to lead."
Layla Zaidane, president & CEO of Millennial Action Project, says the retreat was a deeply meaningful experience for her. "I left feeling a sense of gratitude and purpose," she says. "Not only did I learn more about my own strengths and opportunities as a leader, but I also got to invest in my relationships with others who are leading similar work."
Cynthia Richie Terrell, founder and executive director of RepresentWomen, says being part of the Brewer Fellowship has been transformative for her on a number of levels. "The individual leadership coaching has introduced me to a new way of thinking about my role within my organization, but beyond that I have learned so much from other players in the democracy reform ecosystem," she says. "I am grateful to the Brewer Fellowship for bringing us together so that we can forge deeper relationships and maximize our collective impact."
The Fellows meet again in January and April 2022 to develop group projects where they can partner to improve the democracy reform field.
---
The Brewer Fellows:
Debilyn Molineaux, Bridge Alliance
Mindy Finn, Stand up Republic
Sarah Longwell, Defending Democracy Together
Rob Richie, Fair Vote
Maya MacGuineas, Committee for a Responsible Federal Budget
Nick Penniman, Issue One
Layla Zaidane, Millennial Action Project
Cynthia Richie Terrell, RepresentWomen
Josh Silver, RepresentUs
Francis  Johnson, Take Back our Republic
Nick Troiano, Unite America
Amber McReynolds, National Vote at Home Institute
Eli Lehrer, R Street Institute
Katie Harbath, Anchor Change
Sarah Walker, Secure Democracy
Daniella Ballou-Aares, Leadership Now Project
Aaron Menenberg, Institute for Political Innovation
Stay Engaged
Get More News
Join our mailing list to get more news like this to your mailbox.
Support Our Work
Help us invest in the talent, ideas, and networks that will develop young people as effective, lifelong citizens.
Ways to Support Us