A Career in the Service of Society
December 15, 2022
The Institute for Citizens & Scholars joins friends and family in celebrating the life of Randolph Williams, Esq. Mr. Williams, who received the Martin Luther King, Jr. Fellowship in 1969, passed away earlier this year and left a bequest to Citizens & Scholars in appreciation for the financial aid he received to attend Georgetown University Law School. The MLK Fellowship, which ran from 1968-1974, supported 250 Back veterans pursuing graduate degrees in preparation for careers in the service of society.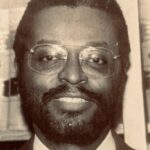 Mr. Williams was born and raised in Montgomery, Alabama. He was a student and altar boy at St. John the Baptist Catholic Church and School and graduated from Booker T. Washington High School in Montgomery. In 1960. he joined the United States Air Force and was honorably discharged in 1965 with the rank of Airman First Class (E-4). He graduated in 1969 from Bowie State University in Maryland. His MLK Fellowship enabled him to attend Georgetown University Law School where he earned a JD in 1972. 
After practicing law in Washington, D.C. for several years, he moved to Philadelphia to work in the Public Defender's Office. In 1977, he was appointed Assistant District Attorney by then Philly DA Emmett Fitzpatrick. Mr. Williams worked as prosecutor in the DA's office until retirement in 2004. During his career, he served the citizens of Philadelphia by working in the Rape, Career Criminal, and Homicide units and was appointed chief of the Career Criminal Unit by former DA Edward Rendell.  
According to his family, Mr. Williams loved to travel and visited every continent, except Antarctica. He was an avid reader and student of American history, particularly the Civil War. One of his favorite pastimes was watching Jeopardy! in the evenings to test his knowledge and compete with friends. 
We are grateful for his generosity and extend our deepest sympathy to his family and friends. For more information on how to devise an estate gift that will provide a legacy of support for future Fellows, please contact Steve Haddad, Chief Development Officer, at haddad@citizensandscholars.org. 
Stay Engaged
Get More News
Join our mailing list to get more news like this to your mailbox.
Support Our Work
Help us invest in the talent, ideas, and networks that will develop young people as effective, lifelong citizens.
Ways to Support Us