2022 Women's Studies Fellows
Scholars Explore Difference In Dissertations: 2022 Women's Studies Fellows
March 17, 2022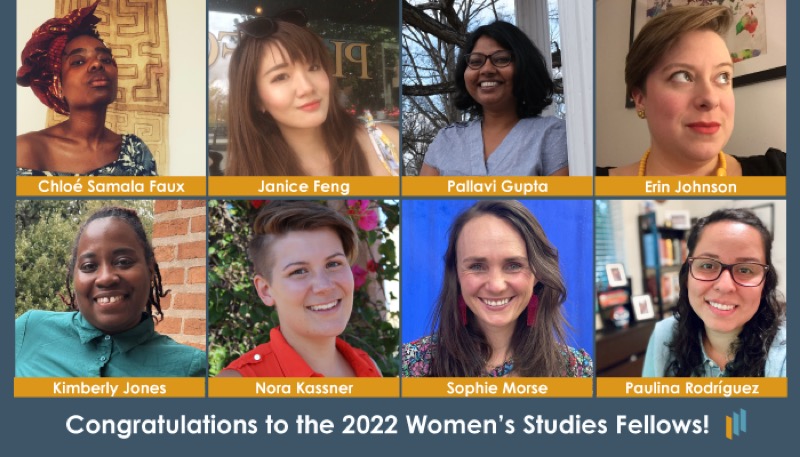 The WW Dissertation Fellowship for Women's Studies has been supporting promising Ph.D. students since 1974. Created to support original, significant, and interdisciplinary research on women's and gender issues, the Women's Studies Fellowship has helped foster and grow the academic field of women's studies. By providing resources for dissertation completion, the Fellowship program has helped ensure a diversity of scholars, ideas, and perspectives have been able to continue in academia. 
Now joining the ranks of the more than 600 Women's Studies Fellows are eight outstanding scholars. The Fellows in the 2022 class are Chloé Samala Faux, Janice Feng, Pallavi Gupta, Erin Johnson, Kimberly Jones, Nora Kassner, Sophie Morse, and Paulina Rodríguez (bios below). Fellows are working in such fields as political science, sociology, history, and public policy. 
Many of this year's Fellows are interested in highlighting the way lived experience and difference bring greater understanding to their scholarship.  
I've "started to appreciate the unique insight differences bring," says Janice Feng. "I am able to see that many of the theoretical debates and questions, though seemingly abstract, have very concrete relevance to those whose daily lives are structured by various differences." 
Janice addresses the way these differences manifest themselves in the lives of those she studies: "As a feminist political theorist, I am committed to thinking about life stories and personal narratives that are not captured by grand narratives and reflected in dominant discourses, including academic ones." 
For Paulina A. Rodríguez it was a feminist theory class in graduate school where she first saw herself reflected in the academic work. Gloria Anzaldúa's Borderlands/La Frontera: The New Mestiza was "a text that spoke to my experience as a Mexican woman and an undocumented immigrant," says Paulina. "I gained an awareness of the importance of representation in scholarship." 
But, as she progresses in her studies, those instances became fewer. "I found that the scholarship I was reading did not reflect my experience as a woman, immigrant, and athlete." This lack of representation, in part, sparked Paulina's current work exploring the history of Mexican sportswomen in the U.S.-Mexico Borderlands and beyond.
Pallavi Gupta worked for nearly a decade with women's advocacy groups in India on issues related to women's rights, rights of indigenous communities, children, and those living with disabilities. This work encouraged Pallavi to "further examine 'difference' and the hierarchies operating in different spaces." 
For her current research, Pallavi uses an intersectional approach to explore these differences. "I employ an intersectional approach and the frameworks of racial capitalism, Dalit feminism and Black Feminism to examine how caste, gender, waste and space intersect within the labor of cleaning in railway stations."
For each of these scholars, understanding the varied experiences underpinning their research is a driving force. By seeking out new perspectives and sharing often underrepresented voices, these scholars are building greater understanding in their fields and beyond. 
"The past, our histories most especially, shift for each narrator," says Kimberly Jones. "In my work as a historian of race, gender, disability, law, and slavery, I conjure often-unheard voices from the past so that they will be heard in the present."
By supporting their work at this stage, Citizens & Scholars is helping these scholars find space to hone their research and providing a vote of confidence in their work. These Fellows will continue to explore a variety of perspectives, experiences, and understandings through their dissertations and their larger academic careers. This foundational work will serve as the basis for how we all understand these topics in the future.  
2022 WOMEN'S STUDIES FELLOWS
Janice Feng • University of Michigan, political science and political theory
The Cultivation of Desire and Indigenous Women's Self-Making and Resistance in Early Modern French North America
This dissertation explores how the cultivation of desire was instrumental to both settler-colonial founding and consolidation that took place through the pacification and domestication of Indigenous women's bodies, and Indigenous women's self-making and resistance in early modern period French settler colonial rule in Québec and the Great Lakes area.
Chloé Samala Faux • Columbia University, anthropology
Valuations of Black Life in Death: Risking an Ethics of Care 
This dissertation explores the historical and emergent dilemmas of black reproductivity in post-apartheid South Africa.
Pallavi Gupta • University of North Carolina, Chapel Hill, geography
Visible Cleanliness, Invisible Cleaners: Examining Gender, Caste, Waste, and Space in the Railway Stations of Hyderabad, India
This dissertation centers the experiences of cleaning workers to explore the politics of cleanliness in railway stations, in India.
Erin R. Johnson • University of California – San Francisco, sociology
Access and Advocacy: Examining the Practices, Partnerships and Philosophies of Abortion Funds Under Stress 
This dissertation focuses on how communities organize through abortion funds and their partners to resist anti-abortion legislation.
Kimberly V. Jones • Rice University, history
Critical Bodies: Gender, Disability and Slavery in Early Republic Virginia 
This dissertation attends to the experiences of disabled enslaved people in Virginia.
Nora Kassner • University of California, Santa Barbara, history
Hard to Place: Queer Foster Families and the Remaking of U.S. Family Policy, 1975-1996 
This dissertation focuses on the impact of queer foster parents on U.S. family policy in the 1970s-1990s.
Sophie M. Morse • University of Texas at Austin, public policy
Implementing Policies Addressing Violence Against Women in the Mexican Health System  
This dissertation explores the implementation of policies that address violence against women in Mexico, specifically focusing on the health system.
Paulina A. Rodríguez • Pennsylvania State University, history and women's, gender, and sexuality studies
Deportistas! Mexican Women, Sporting Citizenship, and Belonging in Twentieth Century America 
This dissertation explores the history of sportswomen of Mexican ancestry in the U.S.-Mexico Borderlands and beyond.
Stay Engaged
Get More News
Join our mailing list to get more news like this to your mailbox.
Support Our Work
Help us invest in the talent, ideas, and networks that will develop young people as effective, lifelong citizens.
Ways to Support Us