2022 Mellon Emerging Faculty Leaders
Scholars Committed To Campus Inclusion Named Mellon Emerging Faculty Leaders For 2022
April 28, 2022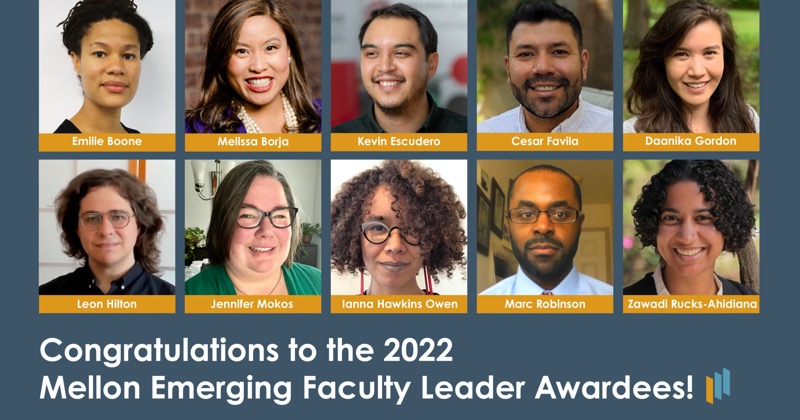 SUPPORT FOR EXCELLENT, EARLY-CAREER PROFESSORS RESHAPING ACADEMIC COMMUNITIES
PRINCETON, NJ (Thursday, April 28, 2022) — The Institute for Citizens & Scholars has named 10 scholars as Mellon Emerging Faculty Leaders (MEFL) for 2022. Funded by the Mellon Foundation, the MEFL Awards support junior faculty whose research focuses on contemporary American history, politics, culture, and society, and who are committed to the creation of an inclusive campus community for underrepresented students and scholars.
The MEFL Award seeks to free the time of junior faculty working toward tenure—including those from underrepresented groups and others committed to eradicating disparities in their fields—so that they can both engage in and build support for systems, networks, and affinity groups that make their fields and campuses more inclusive. Each recipient receives a 12-month stipend of $17,500 while working toward tenure.
The exceptional early-career professors in this year's class work in fields such as African American studies, sociology, history, and musicology. Awardees' scholarship focuses on critical issues such as depictions of gentrification in the media, anti-Asian racism and anti-racist activism, and community policing. In addition to pioneering research, they also take on additional campus responsibilities like mentoring, serving on advisory councils, working with underrepresented students, and giving additional talks and lectures. (See the full list of Fellows below.)
The 2022 class comes from a diverse and competitive applicant pool. The final MEFL awardees were selected through an interview process by a selection committee of four former and current university leaders with various academic and research backgrounds.
Established in 2015, the program has now supported more than 60 junior faculty who represent the next generation of leaders and scholars in the humanities and social sciences and who are poised to play a significant role in shaping American higher education. Through their own work to make their fields and institutions more inclusive, they are expanding young people's understandings and frameworks for active roles in civil society.
For more information about the MEFL Award, eligibility requirements, and the next application cycle, visit https://citizensandscholars.org/fellowships/mefl/
###
About the Institute for Citizens and Scholars  
Formerly the Woodrow Wilson National Fellowship Foundation, the Institute for Citizens & Scholars is a 75-year-old organization that has played a significant role in shaping American higher education. Now, with an expanded mission, Citizens & Scholars prepares leaders and engages networks of people and organizations to meet urgent education challenges. The overarching goal is to shape an informed, productively engaged, and hopeful citizenry.
2022 Mellon Emerging Faculty Leaders
Emilie Boone | CUNY New York City College of Technology, African American studies
A Nimble Arc: James Van Der Zee and Photography
Melissa Borja | University of Michigan, American culture
Virulent Hate: A Global History of Anti-Asian Racism During the Covid-19 Pandemic
Kevin Escudero | Brown University, American studies
Imperial Unsettling: Indigenous and Immigrant Activism towards Collective Liberation
Cesar Favila | University of California, Los Angeles, musicology
Immaculate Sounds: The Musical Lives of Nuns in New Spain
Daanika Gordon | Tufts University, sociology
Experiences and Perceptions of Policing in a Mixed-Income Housing Development
Leon Hilton | Brown University, theatre arts and performance studies
Feral Performativity: Neurodivergence and Collective Life
Jennifer Mokos | Coastal Carolina University, HTC Honors College
Restoration as Removal: Homelessness, Ecology, and the Struggle for Change
Ianna Hawkins Owen | Boston University, English and African American studies
This Time Without Feeling: Reading Black Asexual Affects
Marc Robinson | California State University, San Bernardino, history
Evergreen Ungawa: The Black Student Union of Seattle, the University of Washington, and Washington State University, 1968 to 1970
Zawadi Rucks-Ahidiana | University at Albany, State University of New York, sociology
The Racialization of Gentrification in the News
Stay Engaged
Get More News
Join our mailing list to get more news like this to your mailbox.
Support Our Work
Help us invest in the talent, ideas, and networks that will develop young people as effective, lifelong citizens.
Ways to Support Us