Get Email Updates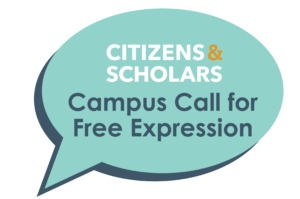 Be the first to hear about new initiatives and activities of the Campus Call.
Contact Us
Campus Call for Free Expression Participating President:
Duke University
Vincent Price, President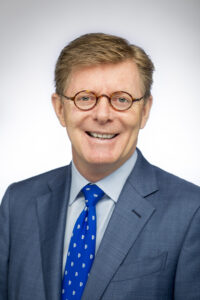 "One of Duke's most cherished values is unfettered debate and deliberation, granting wide freedom of expression to those in our campus community. With that freedom comes the responsibility to foster scholarly discourse, not offer a platform for polemics, and to ensure ideas are tested, challenged, defended and debated in a way that advances knowledge, rather than obscures or impedes it." — Vincent Price
Campus Call for Free Expression Planned Activities
Undergraduate Convocation – August 27, 2023
President Price will touch on themes related to free expression during his August 27, 2023, Undergraduate Convocation speech.
Citizens & Scholars Faculty Development Institute – August 2-4, 2023
Duke University will host the August 2023 Citizens & Scholars Faculty Development Institute: Dialogue Across Difference and Civil Discourse in the Classroom. President Vincent Price will also engage with Institute participants.
Teaching Civil Discourse in The College Classroom: A Summer Seminar for Faculty – August 15-16, 2023
This two-day seminar, to be held at Duke on Tuesday, August 15, and Wednesday, August 16, will be led by Professors Deondra Rose  and John Rose. It will cover topics including potential course content and best practices for effectively promoting civil discussion over sensitive topics in the classroom.
The seminar will help prepare professors to teach a course based on CDP's own highly popular class at Duke, "How to Think in an Age of Political Polarization" (HTAPP). In order to participate, applicants must agree to teach a course similar to Duke's HTAPP within three semesters of finishing the seminar.
Civil Discourse Project (Ongoing Programming and Activities)
Duke's Civil Discourse Project sponsors courses, lectures, conferences, and research that concern the pressing questions of meaning, value, and spirit that confront us as human beings and citizens. We believe that we are best able to consider such questions when we expose our convictions to the scrutiny of an intellectually diverse community of friends who will both support and challenge us. We encourage the cultivation of intellectual and civic virtues and strive to foster community across ideological divides between those who share a passion for and commitment to genuine truth-seeking amidst honest disagreement. We maintain that the pursuit of truth and healthy civil discourse require freedom of thought, inquiry, and expression for academics and students.
Transformative Ideas Living Learning Community (New for Fall 2023)
In an age when civil discourse and 'agreeing to disagree' seem like lost arts, Duke students can choose this fall to live in a community intended to foster those skills.
A new Living-Learning Community for Transformative Ideas will house about 35 students in Kilgo Quad on Duke's West Campus. With meeting spaces that can host up to 75, this new program will bring students together who are actively looking to explore ideas different from their own.
The North Carolina Leadership Forum (NCLF)
The North Carolina Leadership Forum at Duke works with state and local policy leaders from the government, business, and nonprofit sectors to provide them with the will, skills, and relationships they need to engage with each other constructively across ideology, party, race and gender, age, and rural-urban divides. Last year, leaders considered state revenue policy and regional programs looked at access to adequate housing. In Fall 2023, NCLF will convene a cohort to discuss how we should conduct elections in the state.
Duke students will engage with the cohort through a project-based class that conducts research for the cohort and explores how the NCLF model relates to other approaches to political polarization.
ETHICS 203; POLSCI 208; PUBPOL 202: How to Think in an Age of Political Polarization (Undergraduate Course Offered Fall 2023)
Americans today live in a time of deep political polarization, intellectual isolation, and intense partisanship. We are defined in terms of our differences, and our disagreements often appear to be intractable. We rarely have genuine and open interactions with those with whom we disagree; when we do, we often do so on the assumption that they are not just wrong, but are irrational, immoral, and contemptible. This class aims to explore this phenomenon in its sociological, political, ethical, and intellectual dimensions. What are the causes and costs of our polarization? Is it possible to remedy our common ailments? Are we able to call upon "the better angels of our nature" and build and maintain civic and personal friendship across our differences and disagreements? This class explores these and many other questions and will do so in an experimental fashion—testing many of these questions in the context of "case studies" in hot-button political issues. Taught by John Rose.
Duke Law School First Amendment Clinic and Campus Speech Database
The First Amendment Clinic provides students the opportunity to work directly with clients facing free expression concerns, including defamation, content-discrimination, and reporter's privilege.
The public mission of the First Amendment Clinic at Duke Law is to protect and advance the freedoms of speech, press, assembly, and petition. The clinic advises and represents individuals and groups with First Amendment concerns or claims who cannot afford the assistance of lawyers with specialized First Amendment expertise. The clinic also provides commentary and legal analysis on pending or enacted legislation that implicates First Amendment freedoms, and other governmental as well as academic developments.
In 2019, the First Amendment Clinic launched a publicly accessible database relating to free speech disputes on U.S. college campuses.
Friends for Duke Alumni Group (Ongoing programming; will host an event during Fall 2023 Homecoming)
Friends for Free Speech and Intellectual Diversity at Duke ("Friends for Duke" or FFD) seeks to support and advance free expression, viewpoint diversity, and academic freedom on the Duke University campus. A member group of the Duke Alumni Association, FFD is composed principally of Duke alumni, along with students, parents of students, faculty, staff, and friends of all political persuasions and ages concerned about the future of civil discourse in higher education at Duke and across the country. A non-partisan organization, FFD is open to all seeking to promote dialogue, debate, and a culture of free speech, both in and outside the classroom, in a learning environment that allows the expression of all viewpoints.
About the President
Vincent Price is the 10th President of Duke University, where he is also Walter Hines Page Professor of Public Policy and Political Science in the Sanford School of Public Policy and Trinity College of Arts and Sciences. A leading global expert on public opinion, social influence, and political communication and former editor-in-chief of Public Opinion Quarterly, President Price came to Duke in 2017.
Since arriving on campus, he has turned his attention to the future of the university, developing a strategic framework focused on five core principles: empowering people, transforming education, building community, forging partnerships, and engaging a global network. He has also overseen a series of major new initiatives at Duke—including a comprehensive commitment to racial equity, continued strategic advancement of the arts, implementing next-generation residential programs, investing in Duke science and technology, and broadening and deepening engagement with Durham and the surrounding region.
Prior to coming to Duke, Price served as Provost of the University of Pennsylvania and was the Steven H. Chaffee Professor in the Annenberg School for Communication and Professor of Political Science in the School of Arts and Sciences. A member of the American Academy of Arts and Sciences, he earned his PhD (1987) and MA (1985) in Communication from Stanford University and a BA magna cum laude (1979) in English from the University Honors Program at Santa Clara University. Born and raised in southern California, Price and his wife Annette are the proud parents of two adult children. In their free time, they can often be found walking their doodles, Cricket and Marlowe, on the Al Buehler Trail in Duke Forest.
---
The Campus Call for Free Expression is a commitment by a diverse group of college presidents to urgently spotlight, uplift, and re-emphasize the principles of critical inquiry and civic discourse on their campuses. The Campus Call is centered on a coordinated set of presidential and campus activities focused on free expression that collectively amplify higher education's role in preparing young people to be the empowered citizens our democracy needs.